Click to enlarge

| | |
| --- | --- |
| Price: | HK$200.00 |
| Availability: | In Stock |
| Model: | B3.20CD3 |
| Manufacturer: | 熊熊音樂出品 |



-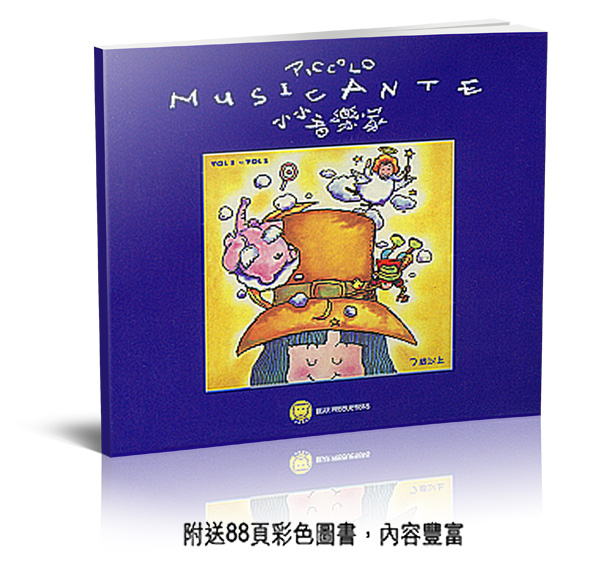 DISC1 - Piccolo Musicante Vol. 1
1. Danse Des Mitlitons (From 'The Nutcracker') Tchaikovsky
2. Serenade Haydn
3. Lullaby Fliess
4. Hungarian Dance No.5 Brahmns
5. Meditation (From 'Thais') J. Massenet
6. Nocturne in E Flat Op.9 No.2 Chopin
7. Minuet in G Beethoven
8. Adagio Sotenuto (From 'Moonlight Sonata') Beethoven
9. March Militaire Schubert
10. Liebestraum No.3 Liszt
11. The Harmonious Blacksmith Handel
12. The Swan (From 'Carnival of The Animals') Saint-Saens....
13. Cuckoo Waltz J.E.Jonasson
14. Kaiser Waltzer J. Strauss Jr
DISC 2 - Piccolo Musicante Vol.2
1. The Maiden's Prayer Badarzewska
2. Gavotte Francois Gossec
3. Andante (From Symphony No.94 in G Major; 'Surprise') Haydn
4. Winter-Largo (From 'The Four Seasons') Vivaldi
5. Lullaby Brahmns
6. Danse De La Fee-Dragee (From 'The Nutcracker') Tchaikovsky
7. Ave Maria Gounod
8. Peter in the Meadow, the bird, the cat Prokofiev(From 'Peter and the Wolf')
9. No other Love / Pathetique Chopin / Beethoven
10. Swedish Rhapsody Hugo Alfven
11. The Happy Farmer Schumann
12. Fur Elise Beethoven...
13. Bridal March Wagner
14. Menuet Boccherini
DISC3 -Piccolo Musicante Vol. 3
1. Cygnes - Allegro (From 'Swan Lake') Tchaikovsky
2. Dreaming (From 'Kinderszenen') Schumann
3. Eine Kleine Nachtmusik - Allegro, K.525 Mozart
4. Air for G String J.S. Bach
5. Serenade J. Heykens
6. Valse Des Fleurs (From 'The Nutcracker') Tchaikovsky
7. Menuet (From 'L'arlesicnne Suite No.2') Bizet
8. Turkish March Mozart...
9. Spring - Allegro (From 'The Four Seasons') Vivaldi
10. Bolero Ravel
11. La Traviata (from 'Brindisi') Verdi
12. Aranjuez Mon Amour Joaquin Rodrigo
13. The Blue Danube J. Strauss
14. Serenade Op.6 E. Toselli